Breast Augmentation
By the time the breast has been the highest expression of femininity, being an important element in women's psychosocial stability. Due to globalization and the speed of spread of the media, the concept of standard of beauty became general under the influence of fashion North American and European, where large breasts are coveted and accepted as the ideal pattern. This became possible through breast augmentation realizing the dream of thousands of women across the world.
In order to restore body harmony on patients that suffer hypoplasia, absence of breast tissue and acquired deformities over time were created different types of prosthesis, being most commonly used silicone implants Polyurethane and / or textured. This is an outpatient procedure that can be performed with sedation and local anesthesia and does not interfere with the period of pregnancy and lactation.
Breast Reduction
Women with large breasts often experience a wide range of symptoms, affecting mainly the osteoarticular system of the spine having difficulty at breathing, not to mention psychological distress, including feelings of unhappiness and self-deprecation as reflected in the social and professional life.
The reduction mammoplasty is a surgery that aims to reduce the size of the breasts, providing a good shape, reducing scarring and especially keeping the glandular physiology and sensitivity of this organ of such sensual importance. The techniques used are the classical Pitangui, Arie-Pitangui, Peri-areolar Peixoto and ending with an inverted T scar, Vertical and around the areola.
It is important to know that every patient has different breast format, with asymmetries and congenital or acquired deformities requiring an indication and individualized treatment.
Mastopexy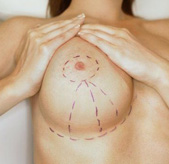 This surgery used to lift the breasts and can be performed with or without inclusion of prosthesis, removing excess of skin, repositioning the papillary-areolar complex and culminating with scars in the form of an inverted T or vertical.
Gynecomastia
Gynecomastia is the abnormal development of the mammary gland in men. His treatment consists of removing excess glandular tissue through a periareolar incision (around the areola). It is important to make a differential diagnosis of lipodystrophy (fat clusters) and gynecomastia. In cases of lipodystrophy this will be corrected by liposuction.